February 20, 2020:
5th Update CD recordings:
Long time no see... So much has happened in the past few weeks that I have not been able to keep all channels up to date. BUT: I just came from the post office to ship my CDs to all the supporters of my crowdfunding!!
But one step back: First of all Jan did an amazing job recording, mixing and mastering my music!! I am super happy how everything has become a total work of art and maybe you can hear the rain or the chirping of crickets on some tracks that we have deliberately tinkered with.
My physical CD has been pressed by Zoundr and not only looks great but also sounds great! (My own unbiased opinion ;-)) Monira helped me with the final implementation of the design and saved me at the very last minute from not printing the inside of the digipack to the outside (they had sent me the wrong template...). It is now in my shop ready to pre-order. I'm really excited to hear how you like them!! 
In addition to registering myself, the songs and the CD to the GEMA, I still had to deal with licenses, which are now all approved. Unfortunately, everything has been delayed a bit, but if I upload the songs now to iMusician (my digital distributor who ensures that everything ends up on Apple Music, Spotify and Amazon etc.), then I hope it will be available on the internet platforms by 03/20/2020.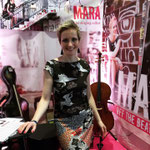 From 27th to 29th January I was at the Kulturbörse (music fair) in Freiburg. My first time ever and immediately with my own stand (with pink carpet and personalized banners!!) I sniffed a lot of exhibition air and learned a lot - and of course I hope that one or the other organizer will book me for a concert soon ;-)
I also designed new flyers and posters for the upcoming concerts and printed merch products like pencils, bags, mousepads and postcards. Monira also helped me to create an individual cover image for each track, which will be displayed on Spotify etc. I am currently in the process of releasing all the information for the CD and the concerts to the press, event booklets and radio (MPN). Not so easy to always find the right contact person for everything.  
In addition to the German shop on my own page I managed to set up an English shop via Bandcamp yesterday night and found out, that shipping is not too expensive: it only costs 4,50€ (US $4.86) to get my CD to every single country in the world! What is still missing is the entire upload for digital sales. Also information about the physical distribution (how do I get my CD in music stores??), the completion of my videos (cut/finalize my music videos and record an EPK video) and opf course new concerts! So if you know an organizer, the best thing to do is ask him if he doesn't want to invite me! Or send me your favorite location and the I will apply!


I am always amazed at how much positive feedback I get back from you! I thank you for your kind words that reach me on all channels and encourage me to continue! I wouldn't be here without you!!! So a huge DAAANKE goes to you!!!
---
November 16, 2019:


4th Update CD recordings:
I have all the recordings in the box!! (Do you really say this in English..? Sorry for my Germanglish! ;-)) I am super happy with the result and I'm happy to be able to show the to you soon and of course hope that you'll like them as well! My songs are now being mixed, after that comes the final mastering. The layout of the CD and booklet have been roughly designed by me and are now being professionally implemented by a graphic artist. I found a press shop for the physical printing of the CD and also a digital distribution company.
All songs are now registered with GEMA. If nothing goes wrong, the CD can be officially released on March 20, 2020! I am really happy and there will be some new music videos coming that you can look forward to! 
I am also looking forward to seeing you at my both at the Freiburg Kulturbörse from January 27-29, 2020 and to many new concerts in the new year that will be released soon.
---
April 20, 2019:

3rd Update CD recordings:

I took many singing lessons and am looking forward to recording all songs soon. Furthermore, I had a great photo shoot with Charles Schrader (here a video of the Making of) and I am looking forward to the great pictures that will end up on the CD and in the booklet. In addition, a new logo is being designed by a professional designer. I am now an official member of the GEMA and just have to complete the application for the CD. Next step will be the collaboration with Recordjet for the release. So it all remains exciting! 
---
February 20, 2019:
2nd Update CD recordings: 
The crowdfunding for my CD is over, and although it can not fully cover the costs of the production, I am very, very grateful for everyone who has supported me and is helping me to bring the album to life!! 
Also I am very thankful for all your ideas that have reached me regarding the selection of pieces - 3 CDs will go to the winners of the SoundCloud challenge after the release (more information on Indiegogo).
Furthermore, all tracks are now recorded and have to be mixed first, before I record the vocals. So I've also made a final selection of the tracks which will be on the CD:
• Du
• Vasks 
• Blackbird 
• Fly 
• I'm only happy
• Church Rhythm
• Lovesong 
• Lonely
• So Wrong
• and two more titles, which will be announced until the release. 
The next step is the completion of the GEMA-membership, the registration of works and the sounding permission for the CD. In addition, there is already an appointment for a photo shoot, a new logo is in the works and a music video is being planned. So it'll never get boring ;-)
---
 January 20, 2019:
1st Update CD recordings: 
My CD is slowly getting into shape. What does that mean? I have selected the best songs and pieces and also arranged/composed new ones and recorded them at home with garageband. Sure, the quality in the studio will be a lot better, but like so I could get a first idea, what the pieces will sound like, if the arrangement fit and how I have to record them. I uploaded all tracks to SoundCloud. However, I have to limit myself to about 10 titles due to the studio costs. Therefore, those who comment on their favorite tracks of mine on SoundCloud can win one of 3 CDs. Do you want to participate? 
---
December 24, 2018:
Update: My first CD!
As you may already have noticed, in 2018 I dared to go on stage with a solo program consisting of self-arranged and composed pieces / songs for cello, vocals and loop station. This was a great challenge for me and I was also facing a lot of new things, of which I had no idea so far (concert acquisition, management, marketing...).
My next dream is a CD. To realize this dream, I understandably need financial means - for the recording, but also for the CD pressing itself and the layout/design. I decided to create a profile on the crowdfunding platform INDIEGOGO because the mones collected does not depend on reaching a target amount, but everyone can give as much as she/he likes and can.
It would make me very happ if you decide to support me there. I thank you from the bottom of my heart and wish you all the best and blessed and happy holidays! 
Your MARA
---
October 28, 2018:

I am very happy to be an exclusive participant of the "Made in New York Jazz Competition".
---
---
---
---